Hardware Pouch sachet Packing Machine ( 2/4/6/8/12 type Hardware Xixed or Independent Packing)
Product Detail
Product Tags
What materials can this equipment pack?
Hardware Fittings Screw Bolts Fastener Weighing Counting Packing Machine in Pouch
1. Applications: Screw, Bolt, Washer and other kinds of regular shape products.
2. Weighing and Fiber Counting packing, applicable to one kind with 1-5000pcs/bag.
3. Key parts own many patent technical, such as Fiber-optical device, Fiber-optical re-inspection, Re-inspection weigher.
4. Solid sealing, smooth and elegant bag shape; high effieciency and durability, can be equipped with exhaust device, printer, labeling machine, transfer conveyor and weight checker.
5. Automatic ordering, counting, packing and printing etc. Easily adjust the quantity of screws in the bag, set the quantity of bags what you need, when you meet, the machine will be stop automatically.
SAMPLE SHOW
The hardware packing machine , it can make as customer request packing , one hardware ,two hardware , four hardware , eight hardware,twelves hardware,16 hardwares .
The pouch packing type , for backing sealing Continuous packaging or individual packaging.
Tailor-made vibration plate for screw samples, linear vibration arrangement device and high-precision technical control device ensure that each bag is accurate. When packaging packaging materials containing icons, the machine is equipped with advanced step control and color mark tracker. The PLC or the control system with single-chip microcomputer can automatically stop, alarm, and diagnose when fault occurs, and it is safe and easy to use.
PROCESS  SHOW
Hardware counting and packaging system, the machine can be equipped with multiple vibrating discs, and can fill a variety of different materials into the packaging bag at the same time, and the user can also selectively use one or two of the vibrating discs. Tailor-made vibrating discs for products, using optical fiber counting system, high accuracy of the number of each package. The equipment can realize automatic arrangement, automatic counting, bag making, filling, sealing and coding of materials. The expansion function is strong, and it can be single package, mixed package or subdivided package, and can add coding machine and exhaust device to meet the needs of different products. It is widely used in automatic packaging of auxiliary installation accessories for electrician, electrical appliances, lighting and hardware and building materials manufacturing industries.
MACHINERY DETAIL SHOW
A.     Small package - Hardware Counting Packing Machine
| | | |
| --- | --- | --- |
| MODEL: | BCP-S-320 | BCP-S-420 |
| PACKING SPEED: | 30-60POUHS/MIN | 30-60OUHS/MIN |
| BAG SIZE: | L50-180MM W40-150MM(change size shaper) | L50-300MM W40-200MM(change size shaper) |
| FILM MAX WIDTH: | ≤320MM | ≤420MM |
| VOLTAGE: | 220V 50/60HZ | 220V 50/60HZ |
| MACHINE WEIGHT: | 300KG | 400KG |
| TOTAL POWER: | 1.52KW | 2.52KW |
| DIMENSIONS: | 1260x930x1700MM | 1260x1000x1800MM |
B. Mixed Pack - Counting Packing Machine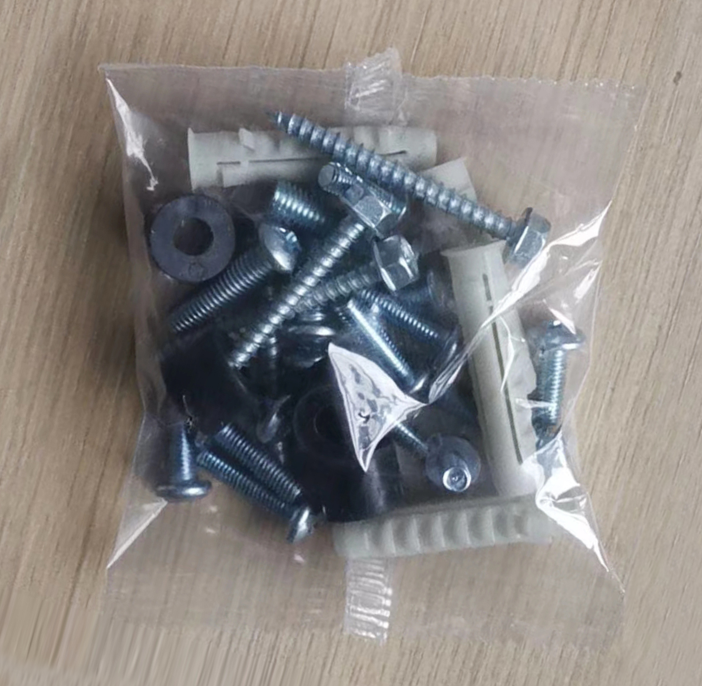 | | | |
| --- | --- | --- |
| MODEL: | BCP-M-320 | BCP-M-420 |
| PACKING SPEED: | 30-60POUHS/MIN | 30-60POUHS/MIN |
| BAG SIZE: | L50-180MM W40-150MM(change size shaper) | L50-300MM W40-200MM(change size shaper) |
| FILM MAX WIDTH: | ≤320MM | ≤420MM |
| VOLTAGE: | 220V 50/60HZ | 220V 50/60HZ |
| MACHINE WEIGHT: | 300KG | 400KG |
| TOTAL POWER: | 1.52KW | 2.52KW |
| DIMENSIONS: | 10000x1500x1600MM | 11000x1500x1600MM |
C.     Compartment continues pouch Packing - Counting Packing Machine
MODEL:

BCP-F-320

BCP-M-420

PACKING SPEED:

30-60POUHS/MIN

30-60POUHS/MIN

BAG SIZE:

Length set as requested

Width 40-150MM(change size shaper)

Length set as requested

Width 40-200MM(change size shaper)

FILM MAX WIDTH:

≤320MM

≤420MM

VOLTAGE:

220V 50/60HZ

220V 50/60HZ

MACHINE WEIGHT:

300KG

400KG

TOTAL POWER:

1.52KW

2.52KW

DIMENSIONS:

11000x1500x1600MM

13000x1500x1600MM
DETAIL SHOW
Cursor and coding machine (optional)
The cursor fixed point realizes the automatic positioning of the length of the product packaging bag.
The coding machine realizes the automatic completion of packaging and printing production date.
The cursor is used in the printing film. If you need to cut a length of 10cm, the error will be 0.1cm at a time. If you cut 10 times, the deviation will be 1cm, and the printing pattern will be deviated. The cursor point is to draw a black frame on the packaging bag. When the machine is working The tracking is aligned with the black frame to automatically cut the bag, which is more accurate and will not deviate.
PS : Beverage filling machine, beverage filling machine is a plastic bottle beverage filling machine, automatic filling and capping machine, is a multi-functional beverage filling machine. It is used for filling carbonated beverages, soda water, salt soda and other carbonated beverages, as well as non-sparkling beverages such as fruit juice beverages and purified water. One machine has multiple functions and is a new type of filling machine with high practicability.
Welcome contact in any time ,customized line is our advantage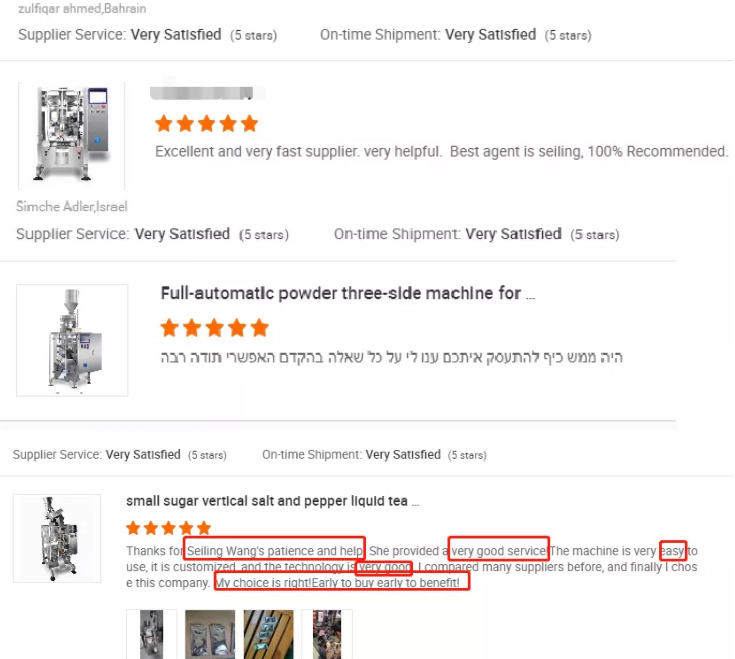 COMPANY INTRODUCE
TOP 10 SUPPLYER IN ALIBABA JIANGYIN BRENU INDUSTRY TECHNOLOGY CO.,LTD LOCATED THE CENTRA POSITION OF CHINA , OUR MAIN PRODUCTION SPECIAL FOR FOOD , PHARAMACY , COSMETIC INDUSTRY. BASE OURSELF PRODUCTION ,RESOURCE INTEGRATION IS OUR ADVANTAGE FROM UPSTREAM AND DOWNSSTREAM FIRM, DESIGN DEPARTMENT AND PROJECT DESIGN ARE MOST IMPORTANT OF BRENU . MAIN PRODUCTION INCLUDING :MANUAL OR AUTO TYPE BOTTLE UNSCRAMBLER , FLIING MACHINE , CAPPING MACHINE , LABELING MACHINE , SEALING MACHINE , HOT SHRINK MACHINE , VACUUM DRYER , CARTON MACHINE , PACKING MACHINE , WRAPPING MACHINE AND CARTON SEALING MACHINE . WE SUPPLIED THE TURN KEY PROJECT FOR MORE THAN 30 COMPANYS . AT THE SAME TIME , WE SUPPLY FREE CUSTOMIZED DEISGN FOR THE PACKING FILM , PLASTIC BOWL ,CUP , LABLE AND SO ON . ALL OF MACHINERY MADE BY FOOD TYPE MATERIAL, ALL PRODUCTION PASS CE CERTIFICATE , PRODUCTION PASS ISO9001 CERTIFICATE , ALL OF MACHINERY PASS VERY SERIOUS INSPECTION BEFORE EXPORT . OUR PRODUCTION WERE EXPORTED TO MORE THAN 100 COUNTRIES , SPECAIL IN EUROPE ,MIDDLE COUNTRY , ASIA AND SO ON . BRENE PRODUCTION ALWAYS FOLLOW MARKET REQUEST , JUST RECOMMEND BUYER REQUEST AND MOST STUITABLE ONE .
1.What guaranteeing does BRNEU offer?
One year on non-wear parts and labor. Special parts discuss bu both
2.  Do installation and training include id the machinery cost?
Single machine:we done installation and test before ship, also supply competently video show and operate book ; the system machine :we supply installation and train service , the charge not in the machine , buyer arrange tickets , hotel and food ,salary usd100/day )
3. What types of packaging machines does BRENU offer?
We offer complete packing systems that including one or more of the following machines , also  offer manual , semi-auto or full auto line machine . like crusher ,mixer , weight , packing machine and so on
4. How does BRENU ship machines?
We box smaller machines, crate or pallet larger machines. We ship FedEx, UPS, DHL or air logistic or sea , Customer pickups are protected well. We can arrange partial of
5. How about the delivery time ?
All small regular single machine ship in any time , after test and packing well .
Customized machine or project line from 15days after confirmed the project
SALES SERVICE ON LINE:
① 24hours*365days*60minutes online service.
② team contact information for service .
Technical engineer :MR.JI (851439108@qq.com)
Online service:Lily(sales2@brenupackmachine.com)
Material Purchase manager:Tina(master@brenupackmachine.com)
Sales chief executive :Jessica(sales6@brenupackmachine.com)
③ If there are quality or other problems with our products,our company's team will discuss it together and solve it, if it is our responsibility, we will never refuse to make you satisfied.
MACHINERY PARTS GUARANTEE :
Our company guarantees that all parts of the machine are original and authentic. During the one-year warranty period, our company will provide customers with free replacement parts and consumables for non-human damaged parts and consumables. Replacement is available to customers at cost price. Our company promises to provide life-long service for customer equipment, and only charge basic material costs and corresponding labor costs outside the warranty period.
CHOOSE US YOU ARE BEST CHOICE
SHOW OUR SERVICE TEAM PICTURE
SHOW OUR GUARANTEE CERTIFICATE FROM CEO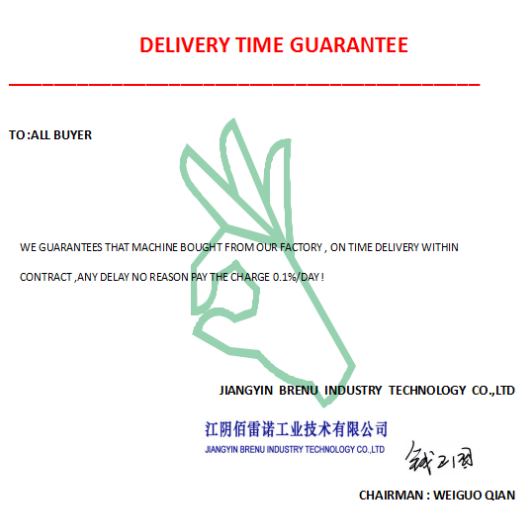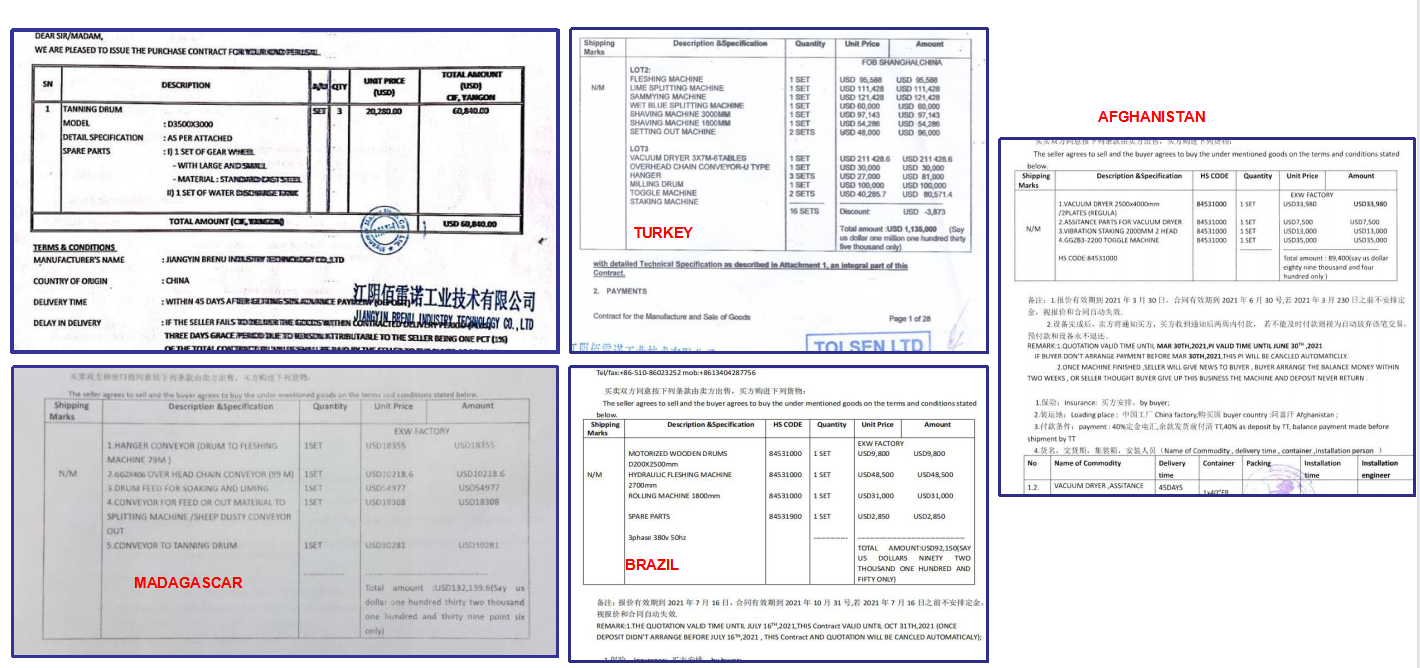 Welcome contact :
what's app:0086 13404287756
Quality guarantee :trade assurance by alibaba by manager and CEO
trade assurance protect : your money , delivery time and quality
JIANGYIN BRENU INDUSTRY TECHNOLOGY CO.,LTD
skype:belinna_2004mail:sales@brenupackmachine.com www.brenupackmachine.com
---
---
Write your message here and send it to us